How did you start working together on the exhibition 2 or 3 Tigers?
Anselm Franke: Hyunjin Kim invited me to work together with her in Korea. We realized one chapter of the exhibition Animism in the Ilmin Museum of Art in Seoul in 2013, and that was the beginning of our collaboration. It made sense to further develop some of the ideas we were sharing back then.
Hyunjin Kim: As well as his Taipei Biennale, I learned a lot about Anselm Franke's perspective through the exhibition Animism, and invited him to the Ilmin Museum of Art in Seoul where I was working in 2013. And in 2015, I saw the project at the Asia Culture Center (ACC) in Gwangju, which was actually the first version of the exhibition 2 or 3 Tigers, and already showed the core idea of the current exhibition. We actually began with that exhibition, with the work of Ho Tzu Nyen and Jane Jin Kaisen, and added further artists from South Korea, Japan, and Taiwan.
What was the title of the show at the ACC?
Anselm Franke: It was titled Interrupted Survey, referring to a lithograph from the late 19th century on which Ho Tzu Nyen based his work about tigers. The lithograph depicts a road survey in the jungle of colonial Singapore at the very moment when it is interrupted by a tiger attack. I used this title, Interrupted Survey, also to create a bridge to the way technologies of surveying are part of everyday life now, and to raise the question of what an interruption might be. You could say that the technologies shown in this nearly 200-year-old lithograph have now become ubiquitous: everywhere, from the smart phone to the satellite, everything is permanently being surveyed and measured. So you see, the interruption of the topographical survey in this image also puts forward the question of what might a similar interruption look like today?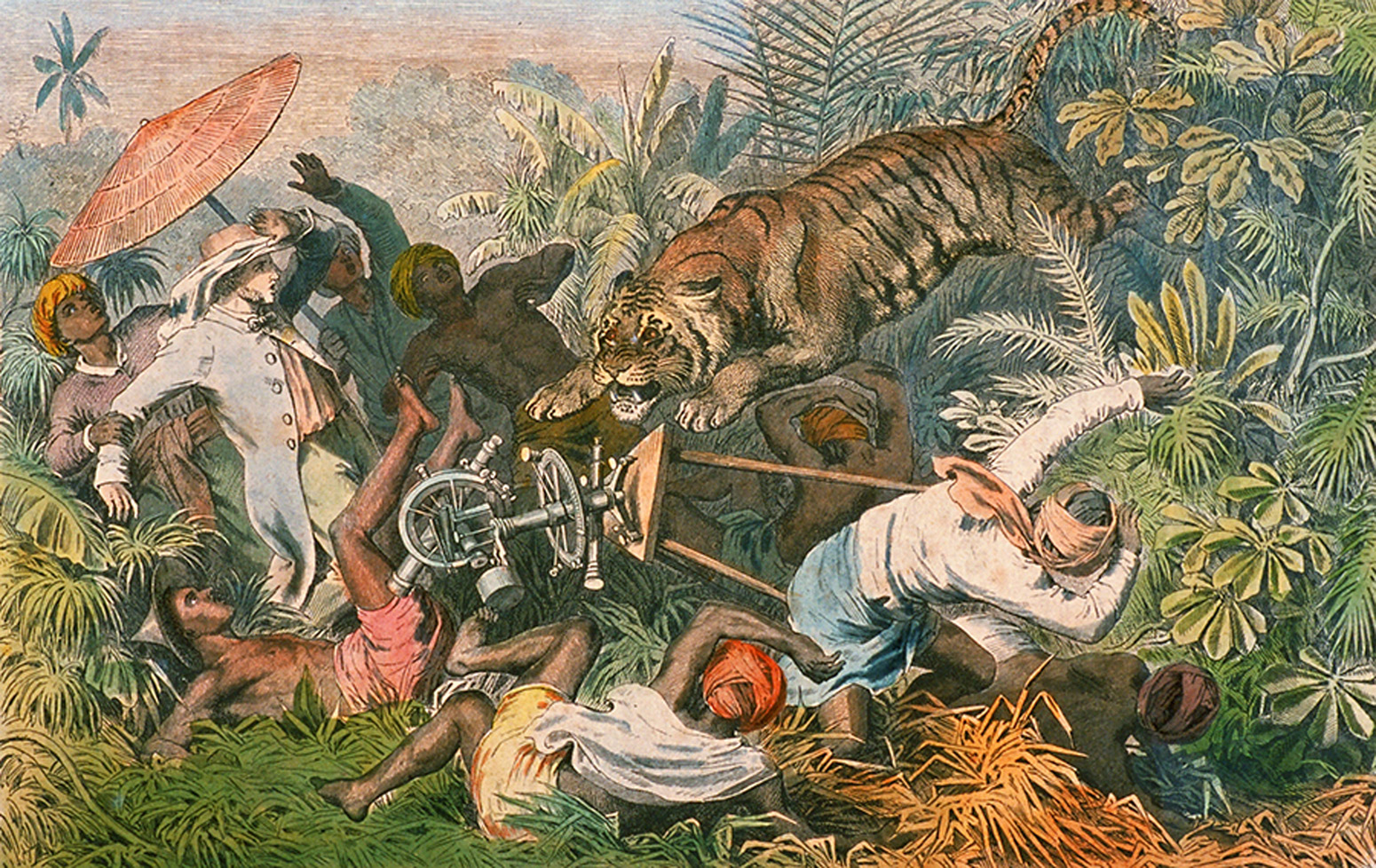 How does the lithograph investigating Singapore's colonial history lead to the exhibition 2 or 3 Tigers and its discourse program?
Anselm Franke: What we are doing is expanding on the ACC exhibition; we had borrowed part of the lithograph title for the exhibition title to show that it is relevant for our understanding of modernity at the intersection of colonialism, technology, and nationality. When you view history through the lens of an instrument that is used for surveying and measurement, you realize that the instrument is in certain ways what is most powerful. It is not a question of "culture" in the way that term is usually used. Before and after measurement, it is no longer the same world, no longer the same cosmology. And yet, it is not a unified and standardized world, as modernization and its belief in technological universalization would have us believe.
Hyunjin Kim, in Seoul you have been working on a project about some problematic traditions that form another background to this project. How have you been dealing with this notion of "tradition"?
Hyunjin Kim: In a way, it comes from a similar interest in measuring, that is, a measuring of regional modernity, a rethinking of the process of modernity in terms of Asian reasoning. I thought that the notion of "tradition" might be adequately re-approached and disputed again. Obviously, this notion has been strongly immerged in the modernization process of the West but so has it in East Asia, where modernization meant Westernization, both overly exaggerated as something authentic to Asian culture as a kind of orientalist operation, and oppressed as something uncivilized or unrationalized. For instance Japan and Korea have just been following a pattern of Western supermodernity, which gave both nations their infrastructure, and which is enabling modernized urbanization as well as Westernized culturization.
There are also the different treatments of the traditions through nationalism, because it becomes a strong apparatus for tradition at the same time. If we think about the daily basis for engagement toward a certain traditional reality in the region over several thousand years duration, we can question how an equivocal attitude toward traditional culture in an economically advanced society like Japan and South Korea would be interestingly reflected as something embodied and redirected at citizens under Westernization, and then we can look at what kinds of irony we are dealing with and what kind of a envisioned statement we can encourage.
Tradition is a sort of everyday life that has been very much removed, but in my artistic community over the last several years, working with artists, choreographers, and composers in Seoul, there has been serious investigation and engagement to rethink and re-approach tradition as a living archive that leads the essential epistemological practice of the contemporary. Certainly, this can be a good medium for the untimely collaboration between the past and the future, which makes our contemporaneity intriguing. It is this sort of complexity and ambivalence, particularity around tradition that I want to think about, how this notion of tradition became not something to be just taken away or something to be nostalgic about.
What about the artists who are participating in the exhibition?
Anselm Franke: I think they each approach "tradition" from a non-essentialist point of view. In their thinking and in their work, they try to decolonize our imaginary, to unearth subterranean solidarities beyond political divides, for instance through histories of state violence and class struggle. And they seek to reject certain choices that the current geopolitical and economic dynamics of capitalism impose upon us, in terms of nationalist divides and certain essentialist notions of identity.
What do they suggest instead?
Anselm Franke: A non-essentialist conception of identity. This is definitely a common attitude in this exhibition. For us it is very important to seek a relationship with tradition that is different from the conservative reaction, but that doesn't mean giving up on the importance of "tradition." It's not about rejecting or embracing tradition: it is instead about developing a standpoint from which we can reject colonialism's epistemic violence and use history as a resource to plunge into a different potential. The artists in the exhibition look at tradition(s) in order to tell alternative stories and open up identity. They try to find inventive and creative ways to deal with tradition to escape the standardization of culture.
Hyunjin Kim: In terms of this, I think the tiger becomes a fantastic medium, because it is the figure of these transformations. In many Asian countries the tiger is also what stood between human and nature, human and god, mountain and village. It has always been seen as a liminal figure. In this way, the tiger is a metaphor, a symbol, and medium: transfigurative, transformative, and transitory at the same time. The figure of the tiger is also a node or a channel to look at how we think through tradition and modernity and contemporary Asian society.
There always are complex issues around Asia and its multiple histories. However, in relation to the West, what kind of possibility might be acquired from this exhibition to understand Asia and its relationship with the West?
Hyunjim Kim: In some respects, we have a discourse-oriented exhibition with a three-weekend program focused on looking into Asia. But this never intends to take a binary position like Western versus Asian or vice versa. Rather, it is dealing with the complicated inter-related, inter-influenced situation between the two over the last 100 years, and the internalization of this complication. But I also think it's important to think about how Asia produces the image of Asia inside Asia, and to look closely from the point of view of the artists from the region.
These artists have engaged seriously in their research with articulated Asian histories around nationalism and the imperialistic agenda to build the lack of self-understanding—actually, how Asia produces its own images and positions. It is not just about the old ideologies that were imposed, such as Western orientalism. Rather, it can be good to think by switching the issue, by looking at how Western-centrism was propelled in Asia by placing emphasis on modernization and how this reinforces complicated national competition and border conflicts today. This complicatedly engages with all the different East Asian histories, which is an aspect I hope we might extend, to think over further from this exhibition.