"I think of myself as a tech-savvy mom," says Mizuko Ito, her fingers poised over a touchscreen. Yet she, too, finds she can't keep up with her daughter anymore. When her youngster mentions learning guitar, the New York cultural anthropologist doesn't automatically consider the option of online tutorials. She also still needs to get used to her daughter's virtual friendships. The auditorium at Haus der Kulturen der Welt is full of teachers, artists and educational theorists, many of them responding with knowing smiles. That's exactly where Ito recognizes a problem. The boundaries between her world of experience and that of her daughter are becoming more and more distinct; her present and the future of the next generation are ever more difficult to envision together.
The Schools of Tomorrow conference at HKW took place for educational experts to negotiate boundaries such as these. How do we prepare children today for a world that seems to be changing week by week? How can schools themselves participate in shaping an uncertain future? Why is it more important than ever to encourage students to act independently? These and other questions were the focus of the program and discussions.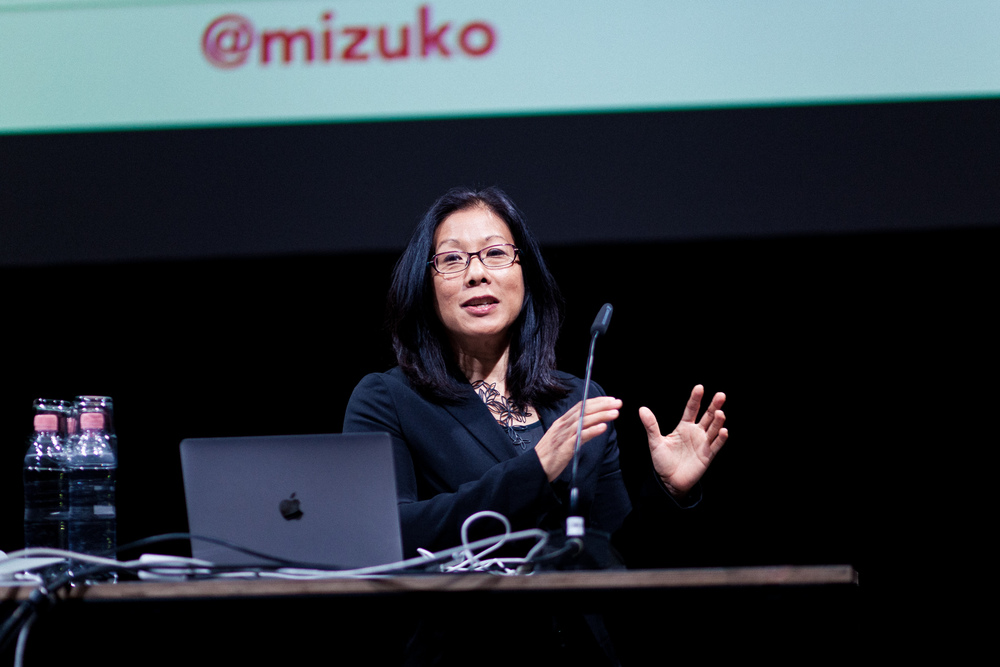 I listen to Mizuko Ito expounding from the podium in the lecture hall about the interconnectedness of the world and against techno-skepticism, and with every sentence I sink a little further into my seat. I'm one of the ones she has it in for, someone who uses her computer like a typewriter and doesn't know whether it rains in the iCloud. I've been part of the social media community for a few years now, but only because I once wrote a portrait about young Facebook activists. Maybe you don't have to be a computer expert to accompany your children into the future. Most of it comes naturally to them. Smart phones that tell them how to get from A to B and friends in Japan they only talk with on computer screens are part of their daily lives, just as video recorders and microwaves once were for me. But does this automatically mean they can handle the "new" competently? And most of all, in conventional school formats do children even get the chance to explore all of the possibilities their surrounding has to offer and to empower themselves within it?
If you ask Katie Salen Tekinbaş, she'll tell you there's definitely room for improvement. The New Yorker is a game designer, founder of the Institute for Play and a professor of computer and digital media. She doesn't see why children's love of games should be suppressed at school; quite the contrary. Thus, some years ago Tekinbaş developed a concept for a school built on the principle that the world can best be explored through games. There are no subjects at the Quest to Learn school; the lesson units are called domains. The teachers work closely with game designers: Sometimes the students battle their way together through tropical digital landscapes or help little virtual characters build a house. According to Tekinbaş, it's not about stubbornly persevering the analog in an ever more present digital world, but simply about using the tools that already define the children's everyday lives. "It [used to be] a little bit creepy to find friends just online and later meet them in the real world," Mizuko Ito had said earlier. Today it's natural for her daughter to explore the virtual world without neglecting the real one.
One floor down, Daniel Seitz from Jugend hackt is focusing on the widespread fear of the digital – while children have long arrived in the post-digital age. In the next room, the team from the Hagenbeck-Zoo school in Berlin-Weißensee argues that cleaning livestock stalls during school is at least as productive as programming. This is where it becomes quite clear that Silvia Fehrmann, the curator of Schools of Tomorrow, does not have the one cure for the future of schools, but that the program opens up a variety of viewpoints for future education.
This day's project is mainly about people engaging in discussions rather than uniting in nodding sessions. While the head of the Zoo school advocates the emotional benefits and sense of responsibility students learn by handling animals, teacher Ange Ansour makes a passionate argument for teaching the methodology of scientific research to even the youngest age groups. Educational theorist Catherine Burke talks about the importance of the right kind of door handles and toilet seats and how the entire school architecture enables productive learning for children. Almost everything seems to be about allowing children more space, both inside and outside the classroom, and giving them the time to play and participate. Although this is a matter of course, it is not yet actively practiced in many schools, according to the consensus, because it ultimately requires a lot of flexibility from the institutions.
In the morning, I'm sitting in a workshop dealing with the trends and pitfalls of urban learning. Håkan Forsell, a historian at Stockholm University, guides the discussion. The animated group includes professors from King's College, London, British architects with a focus on schools, an educator from the Victoria and Albert Museum and a number of Berlin-based artists. They talk about how urban spaces could influence children's learning if only students were released into the city more frequently, how, also, contact with nature should be tested in the school environment in order to counteract the urban norm, and how difficult it is to put all of this into practice.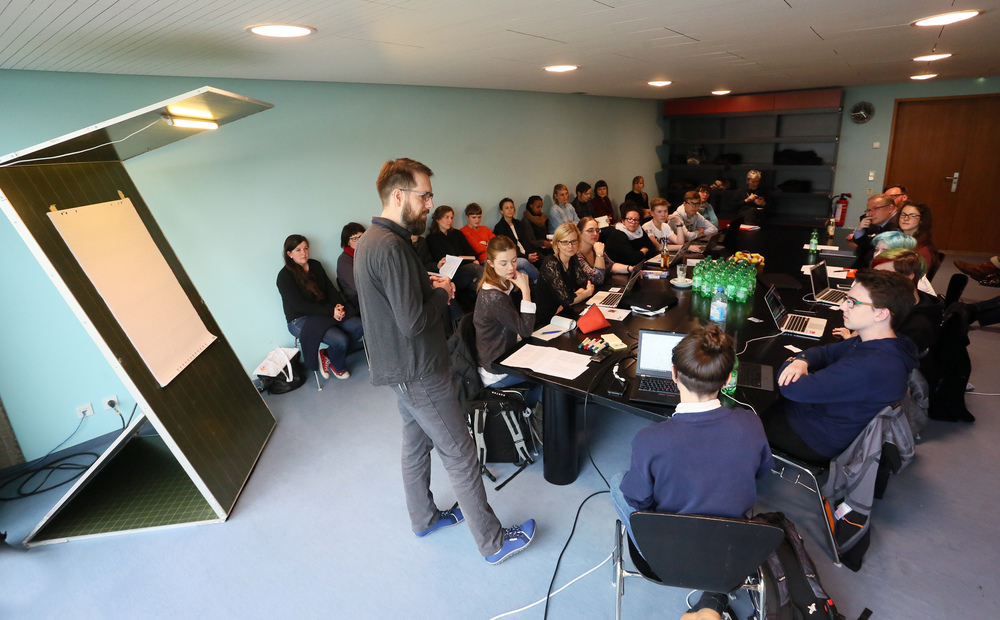 For three days, the cultural anthropologist Arjun Appadurai listened closely to the ideas that surfaced about schools. On the closing evening, he takes the podium himself. Prosaically, he talks about learning environments in India, about illiteracy, dropout rates and lack of access to education, only to conclude, "We won't get very far in the global context with our belief in the conventional school system. It simply doesn't reach enough people." Instead, Appadurai believes in teaching simple methods: interview techniques, photography and videography, structures for archiving one's own research; in manual tools independent of classical education systems for people who nonetheless want to take part in shaping their environment.
His NGO Pukar teaches these techniques in a suburb of Mumbai and his approach lands not at all far from the progressive approaches of many New York institutions. The Center for Urban Pedagogy, for example, has been working with various schools for some time, providing opportunities for young people from disadvantaged areas to influence society. A class from the Bronx recently visited the chair of Manhattan's Metropolitan Transportation Authority and confronted him with uncomfortable questions. "Why is there just one subway station in our whole neighborhood but one on every corner in Manhattan?" the kids asked. "Why are fares rising all the time, and who decides that they should?" They used the responses to put together an entertaining, informative and, above all, critical film. You can see how proud the students are of their work. And rightly so, because if a class from the Bronx can gain access to the CEO of a huge transit authority, there is actually hope that alternative educational approaches are already shaping the responsible citizens of tomorrow.
Translation: Faith Ann Gibson