Fetewei Tarekegn is late when he enters the Jerusalem Cemetery in the spring of last year for the first time. A few young refugees from Arab and West African countries are already there. They're exploring the old stonemason's house behind the entrance, discussing whether they can really imagine a garden here. The initiatives raumlabor and Schlesische 27 invited them to do some guerrilla gardening in, of all places, the unused part of a cemetery. But what to do with less than half an acre of earth next to which the dead still rest and where the church and Neukölln neighbors are always present? Even Tarekegn, an agronomist from Ethiopia and prospective team leader of the Gärtnerei gardening project, is unsure what other visitors to the cemetery will think of their activities. But there's only one way to find out. "At some point we just threw sacks of soil over our shoulders," he says, "and carried them past the graves to the fallow land."
The budding gardeners want to cultivate the soil as soon as possible; they want to do something – finally. The project aims to shorten the refugees' endless waiting in their new day-to-day life in Germany. It is meant to fill up the time until they get possible asylum status or a work permit. German lessons and gardening could also open up career perspectives. But the cemetery soil is tough to till. Without a plow, the men hardly make any progress on the garden. Once one is finally found, it doesn't fit through the entrance gate. And when, after weeks of waiting, the permit comes to heave the plow onto the cemetery from another location, it's hardly worth planting. Yet in the meantime, the gardeners have developed a vision, and none of them will be discouraged by a little bit of cemetery soil – they plant their seeds anyway.
A good year later, Tarekegn is sitting on a boardwalk that leads through a field of sunflowers. Children are romping among dahlias, asters and yarrow. Babies are crawling across picnic blankets and through the kitchen garden. Food is being served in the old stonemason's house, and a very diverse audience has lined up in front of the self-built greenhouse. The visitors to Constanze Fischbeck's mobile video installation Terra Nova – Preview are waiting for a free tablet computer to guide them through the grounds via video. For this unusual place has long come to the attention of artists, sociologists and activists. In Fischbeck's documentary, some of them are now talking with gardeners, clergy and residents about the reclaimed cemetery land that connects them all.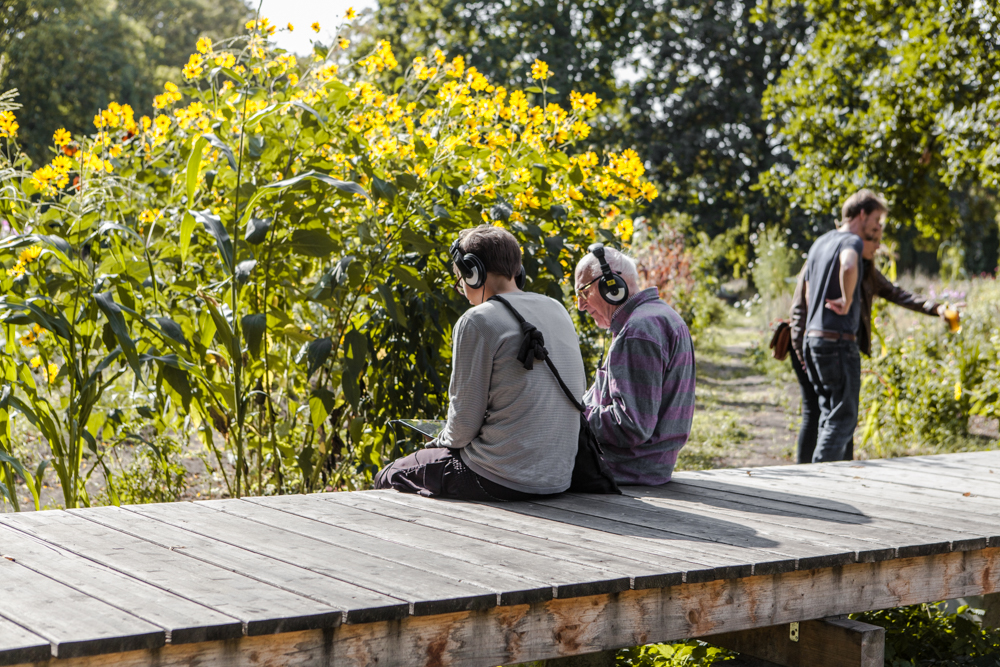 It's a delicate tapestry of hopes and expectations that unites the people of this fast-growing gentrifying neighborhood called Schillerkiez. In this space – that is not only an active cemetery and unused graveyard, but also slated to become a memorial for Nazi-era forced laborers and a housing project – a garden is steadily growing. "I find the simultaneity of the cemetery transformation and the social changes in the city incredibly fascinating," says Fischbeck. "Last year, when we were shooting the first films, we had no idea how dramatically the refugee issue would develop in Germany." A filmed conversation from back then about government failures in dealing with refugees sounds ominously relevant. The thoughts expressed by former pastor Jürgen Quandt on church asylum and the straightforward gestures of welcome by neighborhood activist Beate Storni are more encouraging. But the most powerful images are the ones of the gardeners whose lives have changed in the constant uncertainty hovering between a culture of welcome and of exclusion.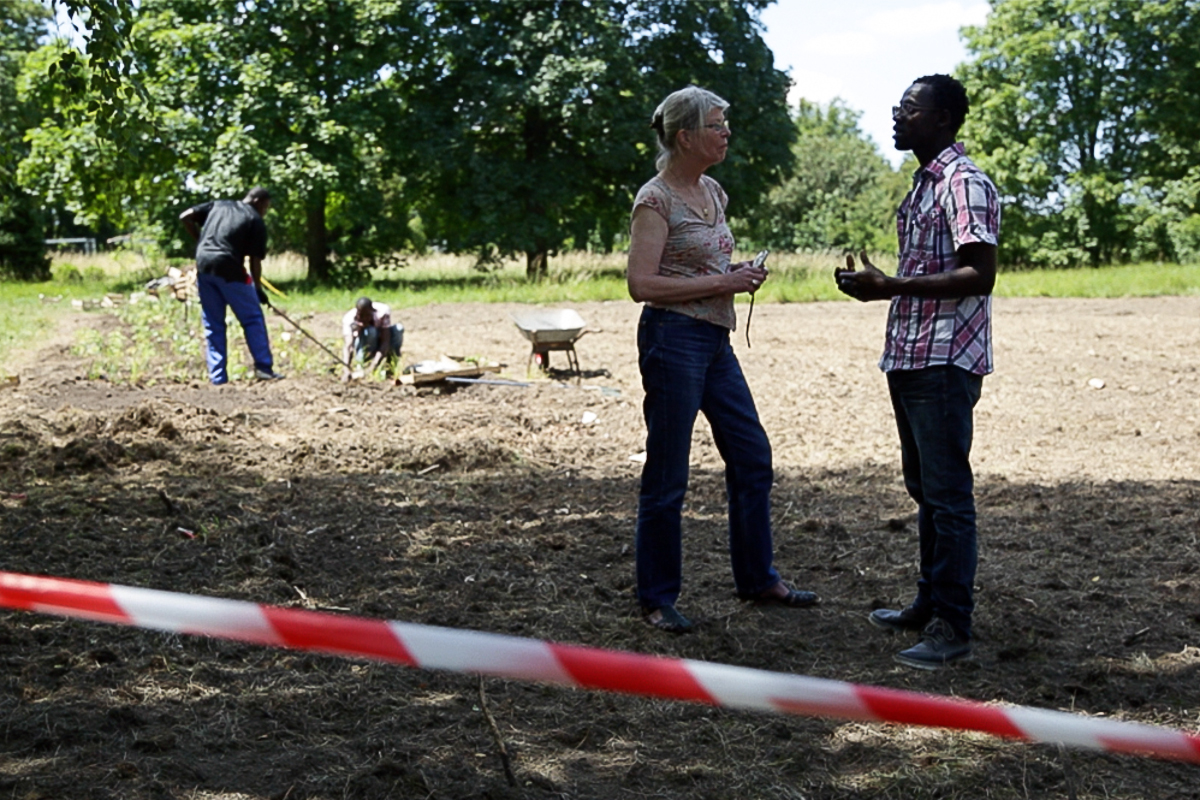 Moussa Sissoko is sitting in the greenhouse handing out tablet computers. In the film, the farmer from Mali is standing several feet away from the same spot discussing the nature of the soil with art educator Hanne Seitz. When she makes an aside that he's here without documents, he corrects her, saying he's not an "illegal." He says it patiently, almost cautiously, probably for the umpteenth time. Then, a bit more forcefully, he wants to know what Seitz thinks of this garden project. Does she think it could make him and the other refugees more popular with the Germans? Seitz responds evasively, knowing that her attitude towards refugees doesn't necessarily reflect that of the majority – it makes her uncomfortable.
A few visitors who've come to the cemetery for the installation this afternoon feel the same way. One after another, they hand their tablets back in and notice the gardeners suddenly standing in front of them in real life. Conversations ensue. They go to great efforts to evade the all too obvious topics. Hardly anyone asks questions about the refugee experience; there's no "Where do you come from?" or "Where do you hope to return to one day?" Instead, the conversations are pragmatic ones about the opportunities that working in the cemetery offer the gardeners. Everyone knows that this work doesn't guarantee them a future in Germany. That it is, at best, career guidance that provides no particular opportunities. That it distracts the refugees from a day-to-day life in which friends jump out of police station windows, as one conversation documents. And that for most of the visitors, that kind of day-to-day life is barely comprehensible.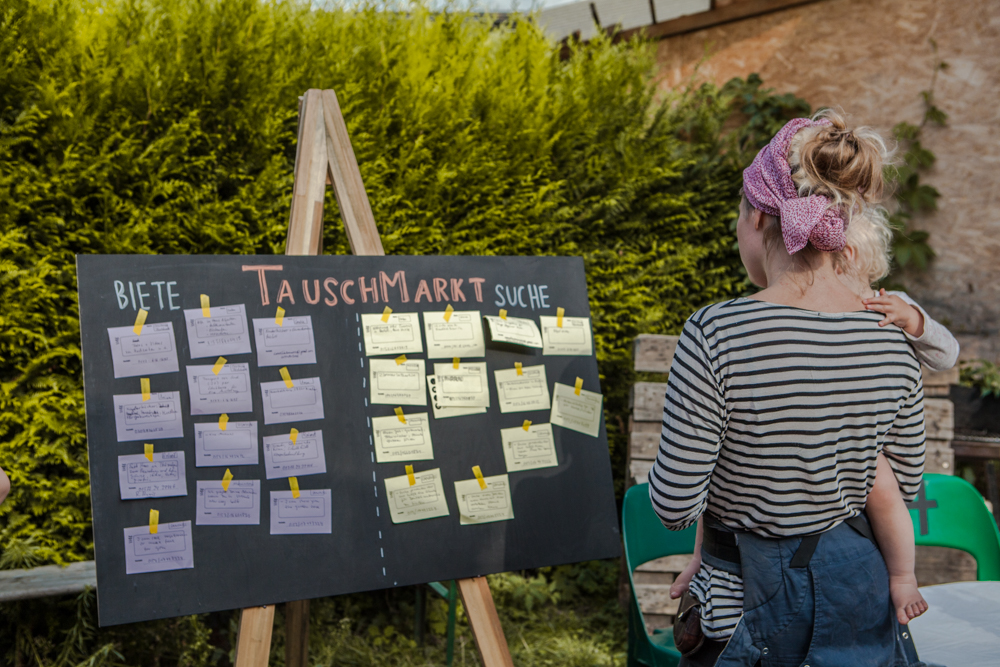 Bonaventure Ndikung knows very well how difficult it can be to communicate non-Western experiences in a German environment. Actually, the documenta 14 curator is tired of always taking up the position of the "non-German" expert. But he takes it when he talks about how problematic he considers the involvement of refugees in art projects. "The question of exploitation and the hierarchies in traditional cultural sectors must be asked much more distinctly," he says in one of Fischbeck's videos. And that exactly is the filmmaker's device: she puts all opinions side by side, documenting the different interests of refugees, residents or artists without comment, without losing sight of the gardeners' situation; their creative urge alongside their lack of prospects.
"We don't know what will become of this place within a year's time," says one of the project's initiators, Barbara Meyer, from Schlesische 27. But maybe that's not even so important. Maybe this is simply a way finally to get people to deal with the issues at hand. Because that's what the Gärtnerei project has managed by attracting visitors for months: getting them into conversations with each other. "Isn't it amazing that we were able to create a garden in the middle of a city that doesn't even have enough space for its inhabitants?" asks Fetewei Tarekegn before disappearing among the sunflowers.
Translation: Faith Ann Gibson